SUPERVISION AND CONTROL SOFTWARE GAS
SAC Net Explorer, totally web-based, concen- trates and distributes information wherever a connection to the network is available.
The application can be used in outsourcing or on a corporate web portal minimising infrastructure investment and management costs.
The data is available at any time and from any web point; in this way you can check the information about plants, alarms, recall reports and historical trends with the option to download the files.
SAC Net Explorer becomes a common information support to be able to best perform its abilities in a synergistic and rewarding context.
SAC Net Explorer is the indispensable tool for configuring and acquiring measurements from loggers correctly.
Communication between the installed meters and SAC Net Explorer takes place using DLMS and CTR protocols via GSM/GPRS connections.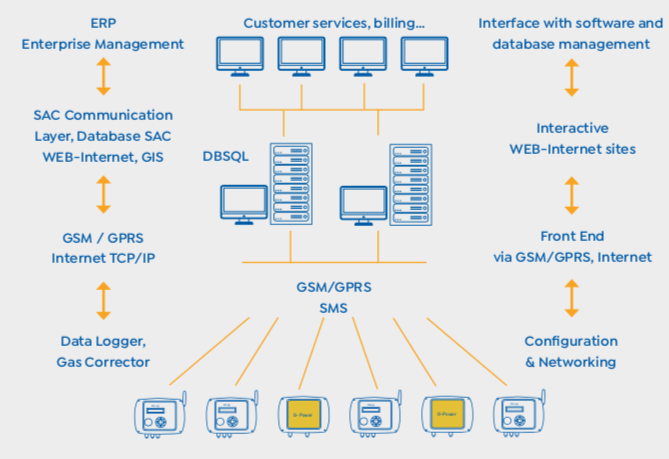 Designed and assembled in Italy
Functionalities
Information security is guaranteed thanks to a sophisticated access policy that allows the remote modification of parameters to be authorised.
SAC Net Explorer provides procedures to reconstruct the course of events (historical hourly and daily readings, historical diagnostics) of each remotely-read converter.
Each measurement device is able to provide the data collected daily as required by regula- tions, in particular:
Volume of gas delivered, under reference thermodynamics conditions, for each hour of the day
Total volume
Reference pressure and temperatures
Daily diagnostics