Dual channel volume converter
Genius 3 is an MID certified volume converter that integrates measurements with data ac- quisition and communication. It is ATEX certi- fied for use in hazardous areas.

Genius 3 has 2 MID certified PTZ EVC channels each with: 1 pulse input from the flow meter, 1 input from a pressure sensor and 1 input from a temperature sensor.
The converter is designed to be remotely con- trolled by the centralised data collection system (SCADA/SAC) using communication protocols such as MODBUS, CTR (UNI TS 11291), DLMS, Lo- RaWAN and NB-IoT.
Genius 3 is a battery-powered low power device that has a guaranteed autonomy of more than 5 years.
When real-time communication is required, the RTU can be powered by an external source in combination with the G-POWER intrinsic safety barrier (ATEX certified).
External power sources can be:
• electricity network
• AMT-AIRWATT microturbine
• photovoltaic panel
Genius 3 is easy to install and connects to the operational control centre using the integrated GSM/GPRS modem or via 169/868 MHz radio frequency connections or is configured as an IoT sensor in a Cloud architecture.
Genius 3 operates over a wide temperature range (-25°C to +60°C).
Genius 3 also has digital signals for general purposes.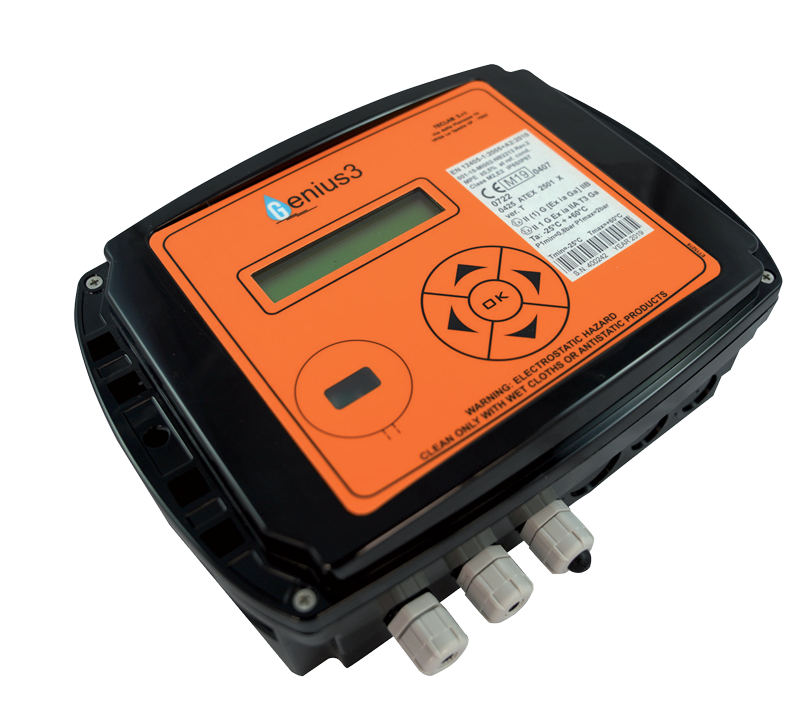 Designed and assembled in Italy
Power
With internal battery
Battery life > 5 years with standard communications
External (optional): using the external G-POWER power supply (ATEX certified)
Certification
ATEX & MID CERTIFICATIONS
Environmental Conditions
Temperature range: -25 °C ≤ T ≤ +60 ° C
Humidity range: 10% - 93% without condensation
Case
IP65 / IP67 polycarbonate enclosure (EN 60529) Dimensions 210 x 150 x 85 mm
Weight Kg. 1.6
Datasheet
MEASUREMENT CHANNELS

 

2 independent channels structured as follows:
• LF volume input up to 3 Hz
• Input from piezoresistive absolute pressure sensor with 3 m standard cable,

accuracy < 0.25%, standard process connection 1⁄4 G male
• PT1000 class A temperature sensor input, 3 m standard cable.

The second channel also accepts HF signals up to 5 KHz

MID Certification, Annex MI-002, in compliance with EN12405-1:2005+A2:2010 Conversion factor in compliance with EN12405 and AGA7

Z Formulas

UNI-EN-ISO12213-2 (AGA8-DC92)

UNI-EN-ISO12213-3 (SGERG-88)

AGA-NX19

Temperature range

-25 °C ÷ +60 °C

Pressure range

0,8÷2 Bar A

0,8÷3,5 Bar A

0,8÷10 Bar A

1÷20 Bar A

2÷24 Bar A

6÷80 Bar A

ANALOGUE INPUTS

Also available are:• 1 input from absolute or relative piezoresistive pressure sensor with 3 m cable

standard, accuracy < 0.25%, standard process connection 1⁄4 G male

• 2 generic inputs 0-5 V

DIGITAL INPUTS

8 DI

DIGITAL OUTPUTS

4 DO Open Collector

POWER

 

With internal battery
Battery life > 5 years with standard communications

External (optional): using the external G-POWER power supply (ATEX certified)

ENVIRONMENTAL CONDITIONS

Range di temperatura: -25 °C ≤ T ≤ +60 ° C Range di umidità: 10% - 93% senza condensa

LOCAL INTERFACES

Alphanumeric display 2x20, 5 keys
Serial optical port in compliance with EN 62056 (IRS 485)

WIRELESS COMMUNICATION

GSM/GPRS/SMS SHORT RANGE WM-BUS internal modem

COMMUNICATION PROTOCOLS

MODBUS RTU, IEC 6870, CTR, DLMS, WM-BUS, IoT

ATEX CERTIFICATION

Version A: with integrated modem and battery power supply Version T: with integrated modem and external power supply

II 1 G Ex ia IIA T3 Tamb = -25°C ÷ +60 °C
Version B: without modem and with battery power supply

II 1 G Ex ia IIB T3 Tamb = -25°C ÷ +60 °C Certificate No. 0425 ATEX 2501 X

MID CERTIFICATION

Certificate No. IT-001-15-MI002-NB2213