Advanced rtu to control and manage r&m stations gas
The RTU Starbox LX2 handles the following main functions:
remote control of plant's operating parameters
remote control of measurement parameters
gas preheating
Starbox LX2 is an innovative Linux RTU - internet inside, suitable for the remote control of remote units even in particularly difficult environments. The RTU embodies the typical characteristics of a data logger with advanced multimedia features. In fact, it is a system where process control, mul- timedia capabilities, remote management and the internet are available and usable with identi- cal operating standards and can be activated in a simple and intuitive way.
REMOTE MULTIMEDIA AND MULTI-ACCESS COMMUNICATION WITH OPERATIONAL CENTRES
For remote connectivity with SCADA operational centres and maintenance centres, connections are available with GPRS, 3G, 4G, ADSL, F.O., Wireless Network, Radio Modem modems.
Wide range of communication protocols for both local and remote connectivity. Easily connected to local PLCs, instrumentation and supervisors, as well as SCADA operational centres.
Large range of local line communication modes: ETHERNET, RS232, RS485, USB, WI-FI.
EMBEDDED PLC
The LADDER language is included to manage control logic that extends the management capabilities of the entire R&M station.
INTEGRATED MULTIFUNCTIONAL WEB SERVER
Able to combine the functionality of a WEB SERVER with the field peculiarities of an RTU.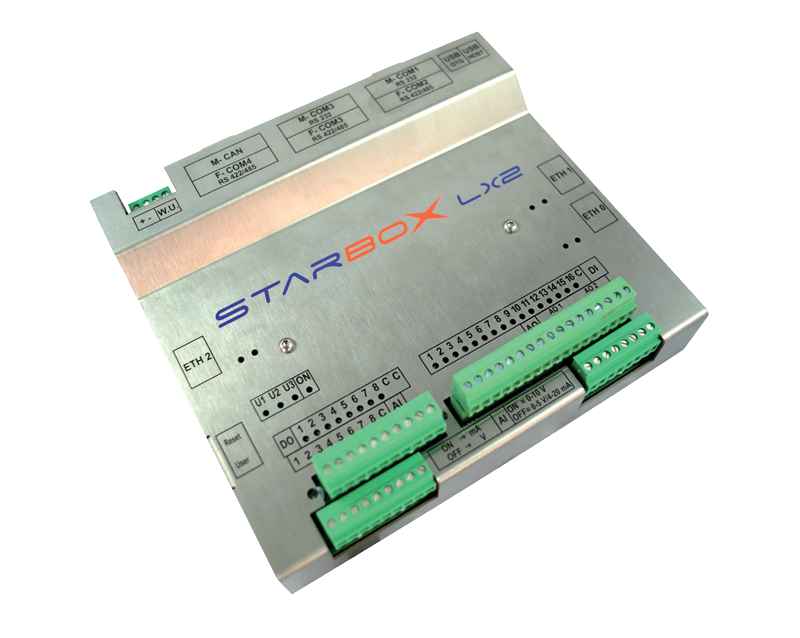 Designed and assembled in Italy
Datasheet
DIGITAL INPUTS

16 DI 10-30 V DC opto-isolated and with 2500 V galvanic isolation

DIGITAL OUTPUTS

8 DO 10-30 V DC opto-isolated and with 2500 V galvanic isolation

ANALOGUE INPUTS

8 AI 16-bit 4-20 mA / 0-10 V DC with 2500 V galvanic isolation

ANALOGUE OUTPUTS (OPTIONAL)

8 AI 16-bit 4-20 mA / 0-10 V DC with 2500 V galvanic isolation

EXPANDABILITY

up to 160 DI, 64 DO, 32 AI, 16 AO with MODBUS RS485 / RS422 / ETHERNET

COMMUNICATION PORTS

1 RS232 - 1 RS232 / 485 - 2 RS485 / 422 -
1 Ethernet 10/100 Mb/s 1 USB

HMI

Local 7" colour touch screen LCD display (Optional)
6 x 18 alphanumeric local display with 5 keys (Optional) Internet mode: via standard browser

CASE

IP 20

POWER

10 - 30 V DC

TYPICAL CONSUMPTION

2-4 watt

ENVIRONMENTAL CONDITIONS

-20°C + 80°C

MEMORY EXPANSION

SD CARD / USB

CERTIFICATION

CE
Functionalities
AUTOMATION

EMBEDDED PLC with LADDER LOGIC STANDARD IEC 61131-3

PROTOCOLS AND STANDARDS FOR REMOTE COMMUNICATIONS

MODBUS RTU/SNMP/MODBUS TCP/IP/DLMS/IEC 62056-21/IEC 60870-5-101/104 Communication modes: Real-time/batch/file transfer/FTP

MESSAGES

SMS / e-mail

WEB FACILITIES

Web portal with graphic display of: Real-time, alarms, trends

ALLARMI

Signalling and management of alarms and events generated by exceeding the threshold and/or reaching physical/logical states.
Use of the message service for alarm notification.

OPC

Compliant via OPC SERVER

CONFIGURATION

From PC via "Rainbow Configurator" Fast software

INTEGRATION WITH OVERLAND AND SCADA Siemens WINCC-OA

Direct via Wizard

USER APPLICATION

Using LADDER/C++ languages in a LINUX environment

OPERATING SYSTEM

LINUX EMBEDDED