PILOTA PER PRV A REGOLAZIONE CONTINUA
Pressure controller for PRV valves. 
Power Spin is applied to hydrovalves that control the pressure downstream to ensure smooth and uniform action. It allows for very accurate, high resolution and absolutely stable adjustment. The work set point is reached instantly. 
Power Spin does not require cleaning of the traditional hydraulic control circuits. 
Power Spin has a wide adjustment range. Due to its continuous action, it eliminates any pres- sure transients and swings that are harmful to the life of the water network. 
High functional reliability: the actuator is protected from overload, does not require electrical limit switches and stops automatically when the mechanical stops are reached. 
Compatible with all peripherals of the Fast Group. 
APPLICATIONS IDEAL FOR SMART GRIDS 
Control of pressure downstream
Control of pressure downstream according to demand (Flow Modulation)
Control of pressure at the critical point
Can be integrated with all Acquawork and Overland software platforms
Can be integrated with any supervision platform.
Possibility of remote control via PC, Tablet and Smartphone. 
Pressure: 10-16-25 bar
Minimum pressure: 0.7 bar at the pilot 
Ideal component for Real Time Critical Point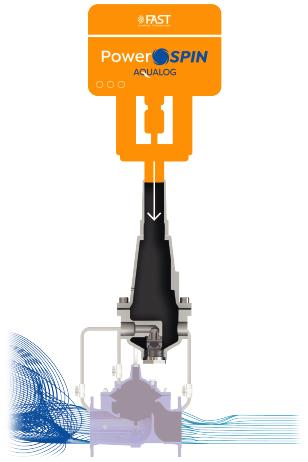 Designed and assembled in Italy
Datasheet
| | |
| --- | --- |
| TORQUE | 1500 N |
| POWER | 24V AC/DC, battery powered, consumption 2W |
| ELECTRICAL CONNECTION | Terminals with 1 m cable, 4x0.75 mm2 |
| PROTECTION | IP 68 |
| NOTE | Temporary/permanent manual operation with mechanical stop and position indicator |
| WEIGHT | Approx. 2 kg |
| EMC | 2004/108/EC |
| IEC/EN CERTIFICATION | 60730-1 e 60730-2-14 |
| OPERATING CONDITIONS | 0...50 °C, 95% RH, non-condensing |