THE WEB PORTAL FOR GAS NETWORKS
Overland is the web portal particularly suitable for the supervision of plants dedicated to re- ducing pressure in gas distribution networks.
The system communicates with the plant's Data
Loggers and Controllers distributed throughout the territory. Users interact with plants via web- based HMI and have a powerful history stored in the database that can be viewed via web page.
SYSTEM ARCHITECTURE
The system consists of an application to supervise and manage the network:
Communication Layer: software module that manages communication with multi-protocol - multi-vendor RTUs
Database for recording all system data
WEB server to host the Overland portal
Man-machine HMI interface via web with the system
Devices to distribute the software user inter- face (smartphones, tablets)
The WEB mode of the interface software allows the user to access data from anywhere, without the need to install additional software on the devices used; just an internet connection is needed.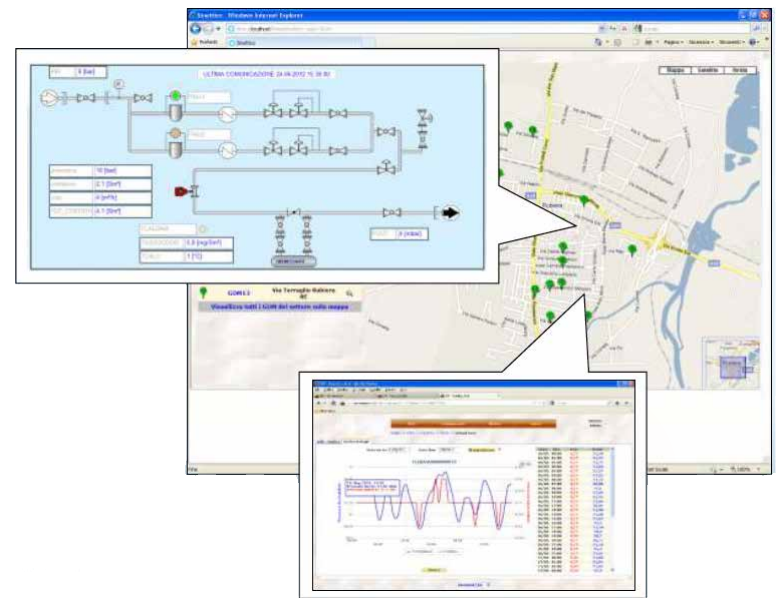 Designed and assembled in Italy
Functionalities
Advanced reporting of alarms and relevant events thanks to innovative technologies: email, SMS, MMS freely available through Smartphones and Tablets
For each plant, all the fundamental process values are monitored: pressure, flow rate, tem- perature, device status and alarms
The data collected by the RTU can be viewed both in historical form and in real time
Integrated with GIS system
The system manages the gas network plants by subdividing them into geographical areas
DATA EXPORT to other systems such as Network Models, Simulation Models or simply EXCEL