Volume converter and data logger
Genius Slim is an MID certified volume con- verter that integrates measurements with data acquisition and communication.

It is also ATEX certified for use in hazardous areas.
The converter is designed to be remotely con- trolled by the centralised data collection system (SCADA/SAC) using communication protocols such as MODBUS, CTR (UNI TS 11291) and DLMS. Genius Slim has an MID certified PTZ EVC chan- nel consisting of a pulse input from the meter, 1
input from a pressure sensor and 1 input from a temperature sensor.

The GSM/GPRS modem is integrated in the de- vice as is its antenna. This, where necessary, can also be used externally thereby improving the conditions for connecting to the network. Thanks to its small size and external sensors, in- stallation is particularly easy.

Battery life exceeds 5 years with standard GSM/ GPRS communications. The batteries are housed in such a way that they can be replaced very eas- ily, leaving the calibration seal intact.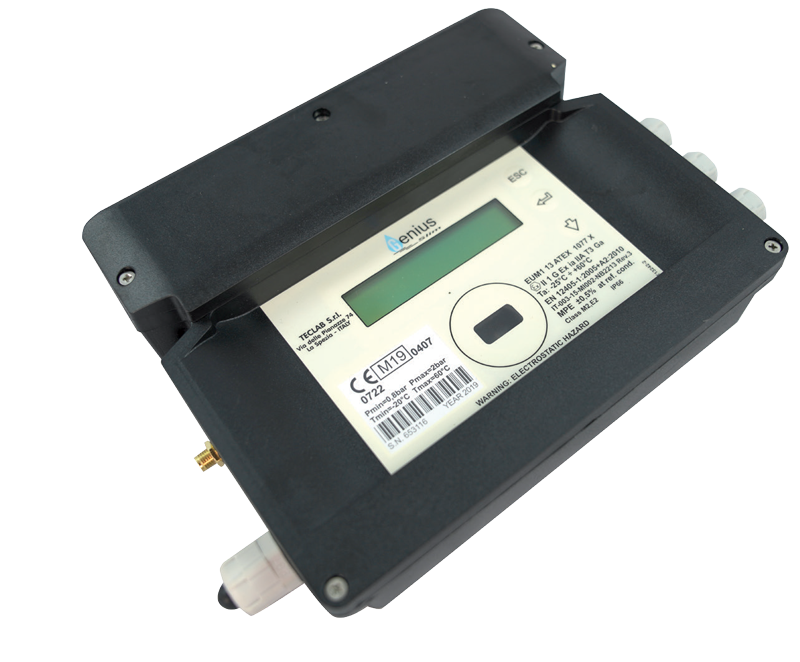 Designed and assembled in Italy
Power
Interna:
• Durata batteria > 5 anni con comunicazioni standard
Certification
Il dispositivo è certificato secondo le direttive MID 2004/22/EC e ATEX 1999/92 EC
ATEX II 1 G Ex ia IIA T3 EPL Ga Tamb= -25°C ÷ +60°C
Certificato N. EUM1 13 ATEX 1077 X
Approvazione MID secondo la EN 12405
Certificato N. 0407-MID-139 (IG-298-2013)
Environmental Conditions
Range di temperatura: -25°C < T < +60 °C Umidità 90% senza condensa
Case
Contenitore in policarbonato IP66 (EN 60529)
Dimensioni 180 x 150 x 40 mm
Peso 1,6 Kg.
Datasheet
MEASUREMENT CHANNELS

• LF volume input up to 3 Hz
• Input from piezoresistive absolute pressure sensor with 3 m standard cable, accuracy < 0.25%, standard process connection 1⁄4 G male
• PT1000 class A temperature sensor input, 3 m standard cable

CONVERSION FORMULAS

AGA8-DC2, SGERG88 standard ISO12213

DIGITAL OUTPUTS

2 DO Open Collector
• Configurable as alarms or pulse repeaters

CASE

IP66 polycarbonate enclosure (EN 60529)
Dimensions 180 x 150 x 40 mm
Weight Kg. 1.6

ENVIRONMENTAL CONDITIONS

Temperature range: -25°C < T < +60 °C
Humidity 90% without condensation

POWER

Internal:
• Battery life > 5 years with standard communications

INTERFACES

Alphanumeric display 2x20, 3 keys
Serial optical port in compliance with EN 62056-21
GSM/GPRS/SMS internal modem with ModBus, CTR and DLMS protocols

CERTIFICATIONS

The device is certified compliant with the MID 2004/22/EC and ATEX 1999/92 EC directives

• ATEX II 1 G Ex ia IIA T3 EPL Ga Tamb=-25°C ÷ +60°C
Certificate No. EUM1 13 ATEX 1077 X
• MID approval in compliance with EN 12405

Certificate No. 0407-MID-139 (IG-298-2013)