RTU to manage pressure reduction units in gas networks
G-LOG+ is an RTU designed to monitor and control plants dedicated to reducing gas pres- sure.
The device can be installed in hazardous, ATEX classified areas in compliance with EN60079-0 and EN60079-11.
G-LOG+ communicates with the centralised data collection system (SCADA) using communication protocols such as MODBUS, IEC60870, DLMS and CTR, WM-BUS.
In addition, G-LOG+ can mount either LoRaWAN or NB-IoT modems, making it an IoT product that can be integrated seamlessly into Smart City cloud architectures.
G-LOG+ is a battery-powered Low Power device that has a guaranteed autonomy of more than 5 years.
When real-time communication is required, the RTU can be powered from an external source in combination with the ATEX-certified G-POWER intrinsic safety barrier.
External power sources can be:
electricity network
AMT-AIRWATT microturbine
photovoltaic panel
G-LOG+ is easy to install and connects to the operational control centre using the integrated GSM/GPRS modem or via 169 / 868 MHz radio frequency connections or is configured as an IoT sensor in a Cloud architecture.
G-LOG+ operates over a wide temperature range (-25°C to +60°C).
G-LOG+ also has digital signals for general purposes.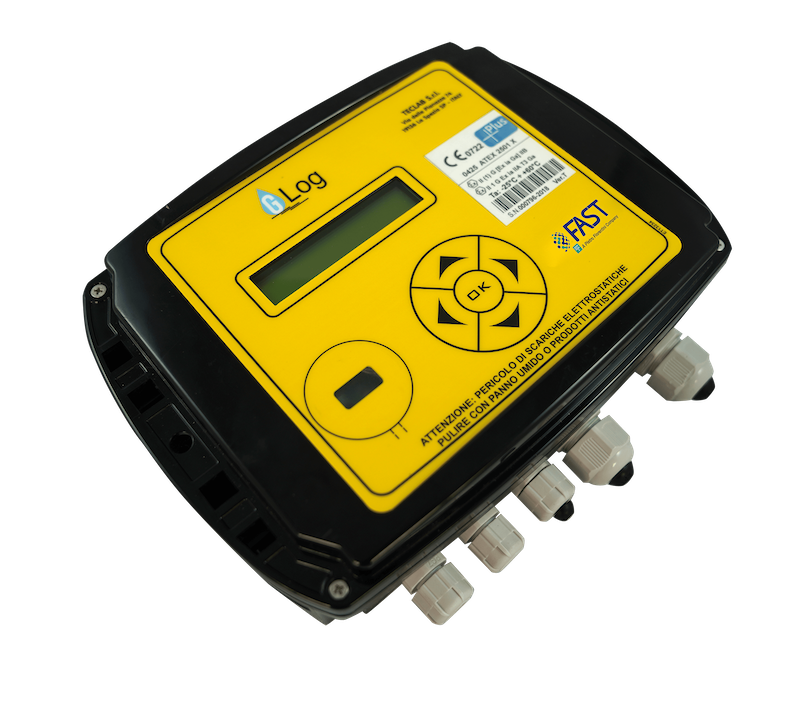 Designed and assembled in Italy
Power
Lithium batteries (5 years) with external power supply via G-Power
Certification
The device is certified compliant with the ATEX directive.
Datasheet
PRESSURE

Up to 3 inputs from pressure cells (different ranges from 0.8-2.0 bar to 6-80 bar)

TEMPERATURE

Up to 2 PT1000 inputs

MEASUREMENTS

2 inputs 0-5 V (optionally convertible to 4-20 mA)

DIGITAL SIGNALS

10 DI (including 8 voltage-free contacts and 2 for high-frequency counting<1.5KHz) 4 DO Open Collector

EXPANDABILITY

Through RS485 port

LOCAL COMMUNICATION PORTS

1 RS485
1 IR (optical communication port)

WIRELESS COMMUNICATION

1 GSM / GPRS MODEM (integrated or external antenna) / 3G / 4G
1 LoRaWAN IoT Radio Modem / NB-IoT
1 169 MHz / 868 MHz WMBUS protocol with Radio Modem or

HMI

Integrated display: 2 x 20 Alphanumeric, 5 Keys

RTC CLOCK

Internal with independent battery

MEMORY

4 MB FLASH

POWER

Lithium batteries (5 years) with external power supply via G-Power

PRECISION

Accuracy of the data logger: +/- 0.3 %

ENVIRONMENTAL CONDITIONS

-25°C < T < + 60°C

CASE

IP67

CERTIFICATION

The device is certified compliant with the ATEX directive:
Version A: with integrated modem
Version T: with integrated modem and G-Power external power supply

II 1 G Ex ia IIA T3 Tamb = -25°C ÷ +60 °C
Version B: with modem installed in a safe area for use with IIB gas unit

II 1 G Ex ia IIB T3 Tamb = -25°C ÷ +60 °C
Functionalities
DATA ACQUISITION

Basic acquisition time: 1" - 15'
Maximum number of variables that can be acquired: 10
Maximum number of samples stored: Average value 500 days - 4 values per hour

METERS

2 fast meters
Range: 32 bits with conversion to engineering units

CONVERSION FORMULAS

AGA8-DC2, SGERG88 standard ISO12213

COMMUNICATION PROTOCOLS

MODBUS RTU, IEC 6870, CTR, DLMS, WM-BUS

IoT

LoRaWAN - NB-IoT

MESSAGES

SMS

ALARMS

Signalling and management of alarms and events generated by exceeding the threshold/ reaching physical and logical states.
Use of the message service for alarm notification.

REAL TIME

GPRS/3G/4G with external power supply or LoRaWAN, NB-IoT, radio modem

OPC

Compliant via OPC SERVER

CONFIGURATION

Direct via "Rainbow configurator"