Logger for monitoring the operating pressure of natural gas
EP-LOG is a DataLogger designed to monitor the operating pressure in low pressure natural gas distribution networks (UNI/TR 11631:2016 standard).

EP-LOG can connect to the SCADA centre in several ways including: GSM/GPRS, UMTS, LTE, SMS, Radio Modem-169MHz, NB-IoT, LoraWAN. EP-LOG can be configured and updated both locally and remotely in order to adapt its behav- iour to changing regulations.

EP-LOG can be installed on pole or wall mounted boxes and can be supplied with a pressure cable for underground gas outlets or with a connection for off-road gas outlets, guaranteeing maximum installation flexibility..
FUNCTIONS
The data that the EP-LOG makes available includes:
Pressure
Temperature
Time intervals with out-of-threshold pressure
Out-of-threshold temperature indication
Real-time communication for a limited period of time
CENTRE - SCADA
The SCADA collects data from all EP-LOGs and calculates the following parameters:
Plant efficiency parameter (Peff) Minimum pressure
Maximum pressure
Average pressure
Average squared deviation Out-of-threshold pressure time

EP-LOG is ATEX certified and can be installed in potentially explosive areas.
The battery life exceeds 5 years with standard GSM/GPRS communications, i.e. by communi- cating the daily historic data to the SCADA once a day. In the event of an alarm, immediate com- munication with the SCADA itself is activated. The batteries are housed in such a way that they can be easily replaced.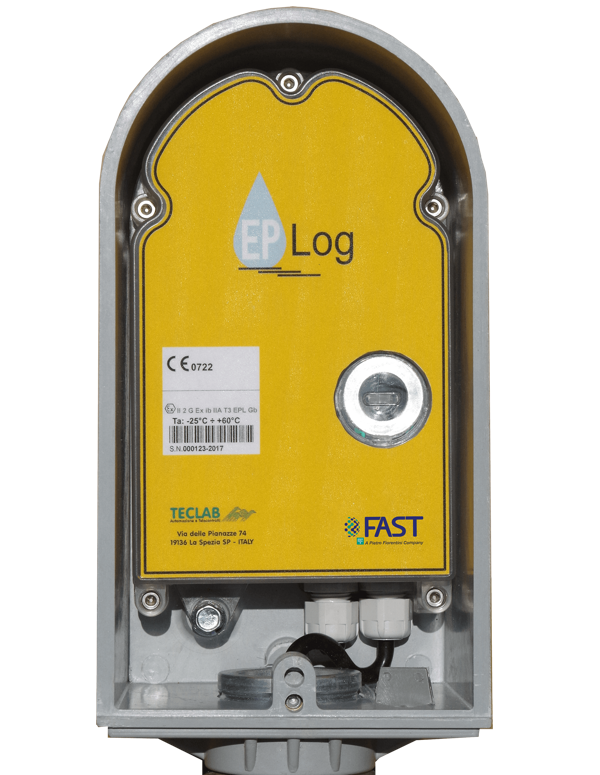 Designed and assembled in Italy
Power
Internal:
Battery life > 5 years with standard communications
Environmental Conditions
Temperature range: -25°C < T < +60 °C Humidity 90% without condensation
Case
IP67 enclosure in thermoplastic mould Dimensions 190 x 115 x 50 mm
Weight Kg. 1.6
Datasheet
MEASUREMENT CHANNELS

Standard input from 100 mBar piezoresistive relative pressure sensor, accuracy < 0.25%, standard process connection 1⁄4 G male.

PT1000 class A temperature sensor input (optional)

Second pressure input (optional)

2 digital inputs (optional)

CASE

IP67 enclosure in thermoplastic mould
Dimensions 190 x 115 x 50 mm
Weight Kg. 1.6

ENVIRONMENTAL CONDITIONS

Temperature range: -25°C < T < +60 °C
Humidity 90% without condensation

POWER

Interna:
Durata batteria > 5 anni con comunicazioni standard

INTERFACES

Serial optical port in compliance with EN 62056-21
Two internal expansion ports for communication circuit boards. Internal modem: GSM/GPRS. Optional: UMTS modem, LTE modem. 169MHz, Lora-WAN 868MHz Radio, NB-IoT Radio.

PROTOCOLS

MODBUS, IEC 870-5-104, WM-Bus, Lora-WAN