PERMANENT MONITORING OF WATER HAMMERS
AQUALOG DIANA the battery-powered RTU to permanently monitor:
Water Hammers
Pressure
Flow
This RTU allows pressure transients to be permanently acquired and recorded.
Equipped with geolocation and synchronisation with integrated GPS.
To monitor pressure, levels and flow in areas that are difficult to access and where electricity is not available. The product has, in fact, been designed to require minimal energy.
Low power, 2 years autonomy.
In extended mode 4 years IP68 protection
Discovery mode: of "Water Hammers" recorded as frames and of high frequency audits up to 48 hours
Data acquisition and transmission from the RTCP (Real Time Critical Point)
4G cloud connection
Records stored of pressure, flow and level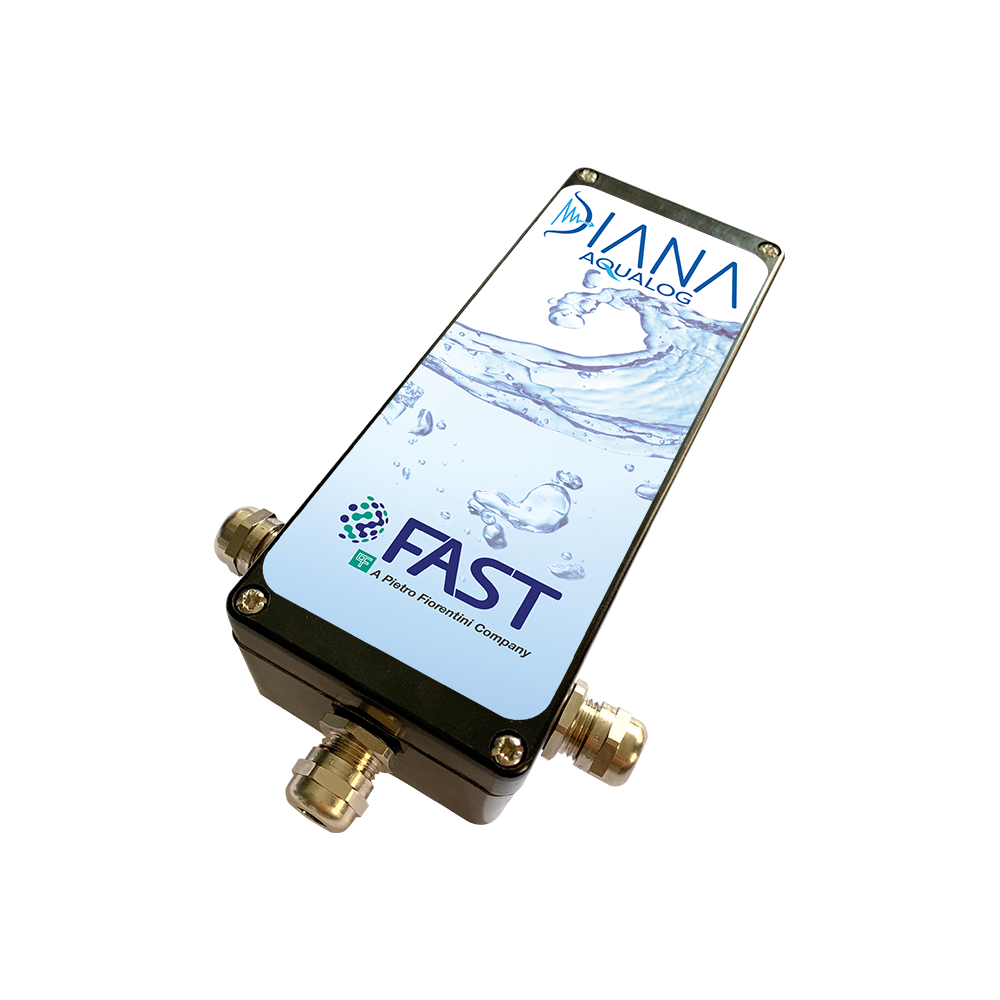 Designed and assembled in Italy
Power
Batteria durata 2 anni. In modalità estesa 4 anni
Datasheet
| | |
| --- | --- |
| PRESSURE/LEVEL | 1 pressure/level input with piezoresistive sensor |
| FLOW | 1 Flow Meter input |
| LOCAL COMMUNICATION | Bluetooth BLE5 |
| GEOLOCALISATION | GPS |
| ANTENNA | Esterna |
| CASE | IP68 |
| DIMENSIONS | PQ 80x175x60 mm – PQ PLUS 130x200x90 |
Functionalities
STANDARD ACQUISITION FOR PRESSURE, LEVEL, FLOW

Basic acquisition time: 1"
Basic storage time: 1' - 1h Maximum number of samples stored: standard 250000

"DISCOVERY" mode HIGH FREQUENCY DATA ACQUISITION
(TO INVESTIGATE "WATER HAMMERS")

High frequency acquisition with sampling at 200 Hz
The "Water Hammer" event is saved locally.
Up to 100 "Water Hammer" events can be stored together.

SUPERVISION IN REAL TIME

Real Time mode for step test activities

PROTOCOLS AND STANDARDS FOR REMOTE COMMUNICATIONS

4G, Modbus RTU / IEC 60870 protocols

MESSAGGI

SMS

ALARMS

Signalling and management of alarms and events generated by exceeding the threshold and/or reaching physical/logical states. Use of the message service for alarm notification.

OPC

Compliant via OPC server

CONFIGURATION

From PC via Fast Rainbow Configurator software - Bluetooth BLE5

LOCAL USE

Via Fast Rainbow Configurator software

INTEGRATION WITH AQUAWORKS, OVERLAND KARMA

Direct via communication layer application (FAST)