Cathodic protection Data Logger
CP4-LOG is a Low-Power Data Logger, designed for the monitoring of cathodic protection systems in accordance with UNI 10950.
The alkaline battery supplied provides more than 4 years of operation under standard condition of use.
CP4-LOG has internal expansion interfaces that allow integration into the different wireless infrastructures available: GSM/GPRS, UMTS, LTE, SMS, WM-Bus-169MHz CIG, NB-IoT, LoraWAN.
CP4-Log has 4 independent measuring channels individually configurable for AC and DC voltage measurements and current through Shunt resistor.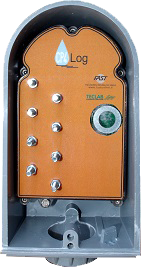 Designed and assembled in Italy